---
Simple
Simple and quick to use,
great functionality at your finger tips
Calculate
Accurately cube up a property
and generate materials required
Detailed
Survey include packing and service
types, materials, item and room images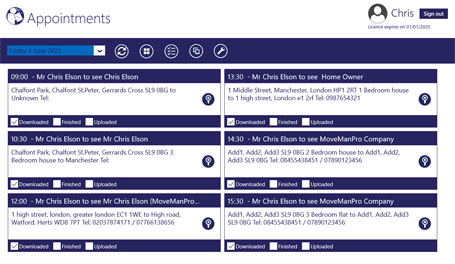 Synced Appointments
MoveMan Mobile is a great tool for surveyors.  Appointments are created by office users in MoveMan, and these details are synced directly onto the tablet saving the surveyor time entering the right details.  There is no need to waste time and money going to the office to collect paperwork as the appointments are delivered direct to the tablet so the surveyor can sync from home, their care or even anywhere with free Wi-Fi.
All the details are on each appointment for the surveyor to use to find the address and there is a handy mapping option if the device is connected to the internet.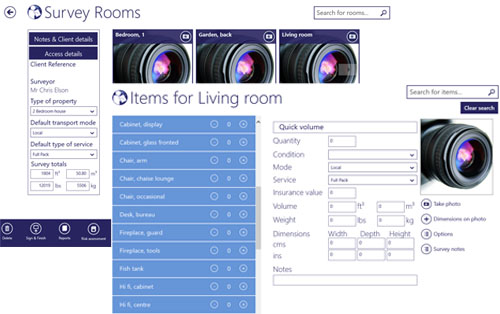 Simple yet Effective
MoveMan Mobile is designed and built to be simple to use but effective and efficient. No longer will you need to decipher handwriting, calculate boxes and add up volume.  MoveMan Mobile does all this for you.  Surveyors just add the room they wish to survey, use the standard list of room specific items to touch the plus symbol to allocate item and volume.  Each item can be bespoke or customised if required, eliminating the need for surveyors to pick random items just to get the right volume.
Once each room has been covered, MoveMan simply adds all these up into room and survey volumes, calculates the number of materials, such as boxes, mattress covers and even rolls of tape, and lets it all sync seamlessly back to the office for the quote to be prepared.
Customisable Content
Each MoveMan Mobile installation comes with an industry standard list of items and volumes to make it easy to get going from day one.  However, we have built the app to be flexible to work how you want to work.  Every item can be customised to suit your names and volumes, every room contents can be made specific to your client demographic and each service offers can relate to your company profile.  Changes are made quickly and easily, and if you use multiple surveyors, these changes are made to all devices ensuring a consistent quality and accuracy across all surveyors.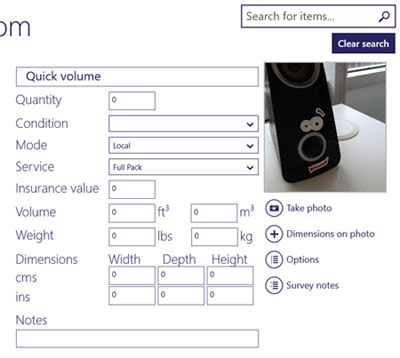 Image Capture
At each stage of the process MoveMan Mobile includes the facility to capture images.  Whether it is photographs of access issues, individual items of interest, items with damage or room images MoveMan can store all these for you. These are recorded directly onto the survey and then synchronised back onto the customers file so office users can see them as well.  The extra report feature enables the crew to be shown a report with all the images on as well.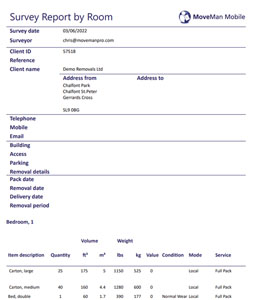 Professional Output
Once the survey has been completed, all the information is pulled into several reports that can be sent to your customer to keep them informed and avoid miscommunication and missed expectations. There are reports without volume for the customer to see and full detail reports for the crew.  Whatever it is we have it covered.
A great tool for producing recognised survey reports for corporate moves, government contracts and overseas agents.
 •   reduce the cost of doing a survey and the impact on the environment of unneeded travel.
 •   reduce errors and improve accuracy.
 •   automatically calculate the volume of a property.
 •   capture images of important items and potential access issues.
 •   receive and upload surveys while out on the road.
 •   calculate the materials required for the move.
 •   simplify the survey process.